Heungdeoksa Temple
Heungdeoksa Temple Site is the Ancient Printing Museum where the Buddhist text titled "Jikji" printed by removable metal types for the first time in the world.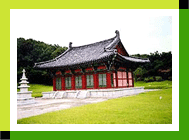 The Early Printing Museum
Arts Center
Heungdeok District Office
Cheongju Main Stadium
Cheongju Medical Center
Yonghwasa Temple
Heungdeok Bridge
1st Uncheon Bridge
Musim Stream
Sangdangsanseong(Sangdang Moutain Fortress)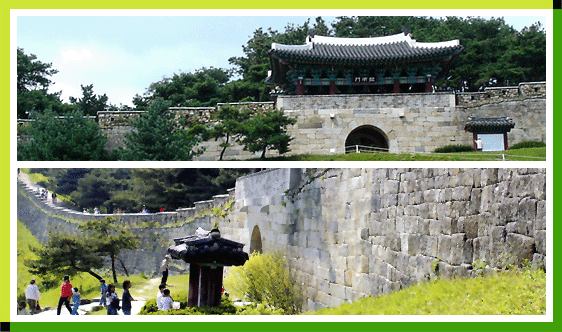 National historic site No. 212. Located in Sanseong-dong, Sangdang-gu, Cheongju, the site is a stone wall fortress of large scale ¹)pogok-style, with a circumference of 4.2km and a height of 3m to 4m.

Sangdang-sanseong is a parabolic stone fortress. Its name might come from Sangdang-hyeon of Baekje, one of Three Kingdoms. Its circumference is 4Km long, and the size of its inner part is 1,808,000m². Unfortunately the exact construction year is unknown, but the historical book on Three kingdoms called Samguksagi shows some records of the site. The present fortress is the one rebuilt in the year of King Sukjong(1716) after its reparation during the invasion of Japan in the 29th year of King Seonjo(1596).
Sangdang-sanseong presently has three main gates (East, West, and South Gates),two plain gates, three turrets, and three waterways. Through the maintenance construction, the turrets of the East and the South Gate, and the Tower of the East Gate(Dongjangdae) were rebuilt. Meanwhile the site of the Tower of the West Gate (Seojangdae) was also found
Accommodation Information
For comfortable night You can stay at a tourist hotel in Cheongju City town or in Myeongam Park Tourist Hotel (043- 257-7451).
Restaurant
You can enjoy traditional food with the famous local wine Daechusul (jujube wine) at a traditional house restaurant with antique ambience.
Local Products
The traditional wine of the region is Daechusul (jujube wine).
Tourist Sites
Cheongju National Museum, Cheongju Early Printing Museum.
Transportation Information
Public Transportation Seoul → Cheongju, 5-10 minute interval (Expressway Bus)
Cheongju → Sangdang Mountain Fortress, Every 1 hour, 10 rounds a day (07:07-22:03)
Cars: Jungbu Expressway west Cheongju I.C → Cheongju → National Road 36 → Uam Mountain Circular Road

¹) Pogok-style: is a fortress that embraces the wide valley inside. The fortress wall is constructed along the mountain ridgeline nearby surrounding the valley.
Yongdusaji Cheoldanggan (Iron Flagpole of Yongdu Buddhist Temple Site)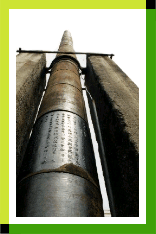 The Iron Flagpole (National Treasure No.41) was built in the 13th year of King Gwangjong of the Goryeo Dynasty. The height is 13.1m, the number of iron tubes is 20.

The Iron Flagpole of Yongdusa Temple
It is an iron flagpole set up in front of the temple to hang the flag called "Dang" on it for honoring the dignity and merits of Buddha and for realizing justice. Standing between two granite supports, the 13.1m-high flagpole, made of twenty iron cylinders, is one of precious relics. It is embossed with the word "Junpung", Goryeo Dynasty's unique title for the year and its construction year (the 13th year of Gwangjong of Goryeo Dynasty, 962) on its thrid cylinder. But the size of Yongdusa temple to which this flagpole used to belong remains unknown. A legend says that a monk named Haewon got revelation from Buddha to build a sail to prevent Cheongju from being flooded by rain. Cheongju was often called "Juseong" because of its resemblance to a boat floating on water, And, the monk Haewon ordered Kim Ye-jong, one of his Buddhistical students, to build this flagpole
Chungyeolsa Shrine dedicated to SONG Sanghyeol
Monument No.16 : It is an ancestral shrine for the memorial tablet of Dongnaebusa Song Sang-hyeon who died fighting during the ²)Japanese Invasion of Korea. In the second year of King Gwanghaegun's (1610) reign, the tomb was moved here from Dongnae and the shrine was then built.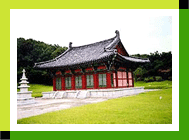 Dongnaebusasongsanghyeon-Chungyeolsa Shrine
Sinjeondonggoga
Gagyeong-dong Apartment Complex
Intercity Bus Terminal
Express Bus Terminal
Sinjeondonggoga (Ancient house in Sinjeon-dong, Cheongju)
Tangible Cultural Property No.145: The house was built in 1926 and ³)Sangnyang-mun is recorded in Jong-dori Jangyeo (beam) of the main building.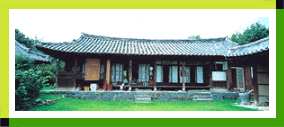 Dongnaebusasongsanghyeon-chungnyeolsa
Sinjeondonggoga
Gagyeong-dong Apartment Complex
Intercity Bus Terminal
Express Bus Terminal
Japanese Invasion of Korea in 1592 (in the year of Imjin, the 29th binary term of the sexagenary cycle)
The words celebrating the completion of the framework of a house (sangyang, putting up the ridge beam) and are read on the celebration day.
Munui Cultural Properties Site
Munui Cultural Properties Site, A Local Cultural Monument where the Past, the Future, and the Present Co-exist

When traveling from Cheongju to the direction of Daecheong Dam on local highway No. 32, one can arrive at Munui and soon thereafter will discover a huge lake called Daecheongho Lake. Munui Cultural Properties Site is located where one can look down upon the Daecheong Lake. This is where many families or tourists from nation's cities come for a visit or recreation.
Background
Plan for Munui Cultural Properties Site was first laid down in 1992 after the construction for Daecheong Dam was completed in 1980 on 40,000 pyeong of land as the site for Munui Cultural Properties, to be used as a living ground for education. The idea was to collect and display tangible and intangible cultural properties of Cheongwon-County in one place in an effort to preserve the traditional culture of Cheongwon that was disappearing due to rapid industrialization and to keep the spirit and life of our ancestors alive.

Collections within the Site are dolmens from various places of Cheongwon –Adeuki dolmen of Munui, dolmens of Miwon-ri and Susan-ri, dolmen of Naesu Hakpyeong-ri etc.--, Munsangwan or a government building of Muneui County that was designated as Local Tangible Cultural Property No. 49, several private houses from Nangseong-myeon Gwanjeong-ri, Muneui-myeon Nohyeon-ri, and Buyong-myeon Bugang-ri, Seo Gildeok Filial Son Pavilion and Kim Seonbok Loyal Subject Pavilion as well as a number of tombstones from Muyeui area.

To show life-related customs of our ancestors, a good number of upper-class residences, a rural restaurant, mud-walled huts, a local blacksmith's workshop, and walls were rehabilitated after historical research. Collections at the Exhibition Hall of Historical Artifacts include King Youngjo Taesil Gabong Euigwe, designated as Local Tangible Cultural Property No. 70, which recorded the construction of King Youngjo Taesil --a stone burial where the umbilical cord of King Youngjo was buried-- from Nangseong-myeon Museong-ri, Artifacts Hall that displays artifacts from various places of Cheongwon-County, and Roof-tile Exhibition Hall that displays old roof-tiles from Baekje Kingdom up until modern times by period.

Besides, at Muneui, you can see Yangseong-san Hiking Route that are frequented by residents of Cheongju City within 10 minutes of walking distance, Small Dragon Cavern Fountain, Cheongnam-dae Road that serves as a pleasant drive course, Youth Center where the youth of Cheongwon can exercise, and Artists Village that is composed of writers residing in Chungbuk area. Here, one can finally understand the meaning of a common saying,"When you come to Muneui, you can see the culture."
Layout of the Site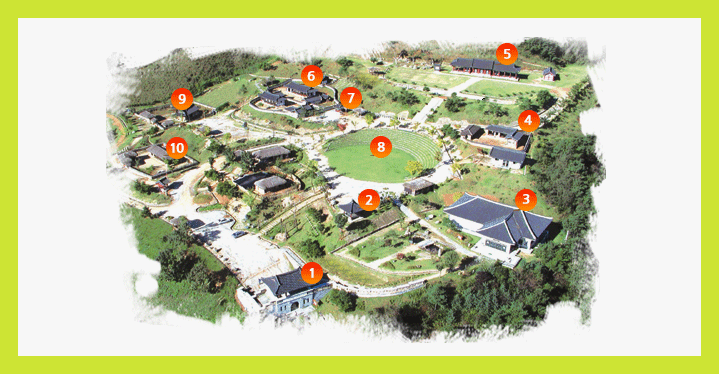 1. Yangseong Gate, 2. Minhwa-jeong, 3. Exhibition Hall of Cultural Artifacts, 4. Private Houses of Buyong- & Bugang-ri, 5. Munsan-gwan 6. Upper-class Residences 7. Kim Seonbok Loyal Subject Pavilion, 8. Playground, 9. Private Houses of Muneui Nohyeon-ri, 10. Private Houses of Nangseong Gwanjeong-ri
Site Information
The site shows the shape of a village where our ancestors lived in such places as Muneui private houses, Nangseong private houses, a rural restaurant, and a playground as well as a gate made of twigs, earthen bricks, small cottages, and mud-walled huts where the common folks lived.

To facilitate understanding of visitors, items of folk arts and tools that were necessary for everyday life were classified and displayed together with pictures and explanations on their use with an emphasis on food, clothing, and shelter. Also, on the back of an upper-class residence, a shabby hut was shown which was used during 3 years of mourning by a filial son of the deceased as a symbol of Hyo (filial piety) culture.

In this shabby hut, which was established to teach new generation youth the philosophy of respect for elders and of filial piety and love in the family, an explanation of the procedure involved in traditional mourning and ancestor worship was presented, together with related pictures, ancestral worship table, and models of mourners.

A playground covered with blue carpet and lawn indicates that important events have been carried out here successfully in the recent past, including Daechengho International Environmental Art Festival in the spring and Cheongwon Cultural Festival in the fall to serve as a site for encompassing all the residents of Cheongwon. On weekends, the Site was used to show traditional weddings. From next year, a procession of a local magistrate is to be held on this site.

When moving up a little on the Site, one can see a Dol Neowajib (a commoner's house of Buyong) that is hard to find in this part of the country. Stones were cut flatly like a roof-tile and placed as if they were roof-tiles. On Munsan-gwan, Local Tangible Cultural Property No.49, a royal plate was placed, and a bowing ceremony was held in this building on every 1st day and 15th day of a lunar month facing north. The building was also used as an abode for visiting dignitaries from Seoul.

As a pride of this Cultural Properties Site, one can not miss the Exhibition Hall of Historical Artifacts. The Hall houses roof-tiles of the past, about 200 pieces, including Silla and Baekje. wa-dang, which are displayed by period. About 90 folk materials, about 150 books, and about 60 other historical artifacts are also displayed.
In the front court of the Exhibition Hall, Munsan Stone Bridge was restore that is presumed to have been constructed during the Goryeo period.