Cheongju Early Printing Museum
Cheongju Early Printing Museum preserves and exhibits the ancient Buddhist text titled "Jikji" along with some 800 materials related to printing techniques and equipment used in and around the end of Koryo Dynasty in 14 century. This museum stands in the precinct of Heundeok-sa Temple site and is regarded an educational spot where one can learn about the general picture of the development of printing technology of Republic of Korea in the light of the world printing history.

It is also worthy to note the main building for Buddhist rite is standing in the precinct of the rehabilitated Heundeok-sa Temple.

Jikji

It was known to the world when it was shown in the international Exhibition Show for commemoration of "World Book Year" of 1972. Jikji (original title: Jikji-simche-yojeol) is a book of sayings of founders of Buddhism, which are indispensable to comprehend the essence of Zen. Due to the imprint like "Seonkwang 7nyeon Jeongsa 7 wolil cheongjumokeo heungdeoksa juja insi" (it is painted in 1377, the third year of king Woo of Goryeo Dynasty, in Heungdeok Temple) at the end of the second book, it was verified as the oldest printed book by metal type about 70 years before the German Gutenberg's metal type. But we could not confirm the location of Heungdeok Temple because of insufficient record. In 1985, during housing land development of Wuncheon area, a bronze bowls, engraved by inscription "Seowonbu Heungdeok Temple", and Bulbal were disconvered, and so we could find the location of Heungdeok Temple.
Cheongju National Museum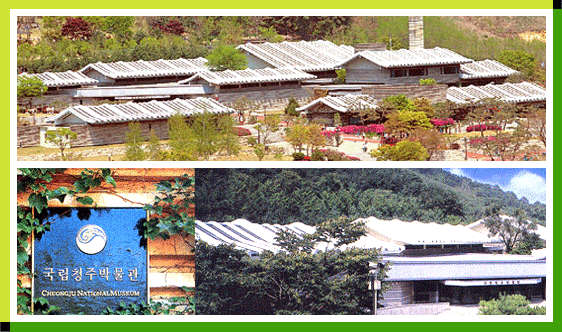 The Cheongju National Museum, dealing with management/maintenance, research and exhibition/education for excavated cultural properties, was opened in 1987 on an area measuring 99,174㎡ that was donated by Mr. Gwak Eung-jong, a Cheongju citizen.

In the museum, the more than 2,300 relics excavated in Chungbuk area until the Joseon dynasty since the Old Stone Age are exhibited. This shows the stream of the regional culture. The museum also runs a Children's Exhibition Center where a space for experiencing and learning is provided for children who will lead the era of the new century of culture.

Every year a special exhibition and a touring exhibition are held so that a general view of the regional culture may be provided. In addition, it attempts to discover the traditional culture of the Chungbuk area by researching and maintaining/managing the various excavated cultural relics in the region.
Exhibition Information
Opening Hours

weekday : 9:00 AM - 6:00 PM
weekend/holiday : 9:00 AM - 7:00 PM

Closed Days : January 1 and every Monday

*The museum close at 9:00 PM on every saturday from April to October
Directions to the Museum
Cheongju IC → Sangdang Park → Provincial Office → Myeongam Reservoir → Museum
Ochang IC → Cheongju Dongbu beltway → Museum
Cheongju IC → National Road 17 → Yukgeori Market → Myeongam Reservoir → Museum
Daecheongho Museum of Art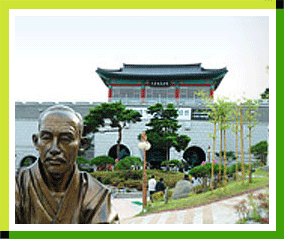 Daecheongho Museum of Art,
Daecheongho Museum of Art, the Most Beautiful Moment
when Art and Nature Become One

Daecheongho Museum of Art, located in a place where one can observe the entire view Daecheongho, is the first public museum of art of Chungbuk Area that is run directly by Cheongwon-County. Consisting of three exhibition halls where regular and special exhibitions are held incessantly and an outdoor sculpture park, Daecheongho Museum of Art provides an opportunity to the visitors of Muneui Cultural Properties Site to appreciate quality art works.
Greetings
Daecheongho Museum of Art was opened on October 2, 2004 at Muneui Cultural Properties Site that is located in Muneui-town Cheongwon-County Chungbuk. The first public museum of art of Chungcheong Bukdo that is run directly by Cheongwon-County, Daecheongho Museum of Art is also well known not only as a space for culture and art but also as a major tourist attraction in a perfect harmony between superb natural beauty along the lakeshore and the Cheongnamdae.

The Muneui area, where Daecheongho Museum of Art is located, is a site of traditional culture where human beings lived from the Paleolithic period. Coupled with clean air and water along the lakeshore, not to mention of the superb natural scenery, this area attracts constant streams of artists and tourists. At Daecheongho Museum of Art, we have prepared diverse exhibitions and interesting education programs that encompass almost all genre of art and are waiting to see you. We will look forward to your continued support and interest so that we can accomplish the kind of goal that is pursued by Daecheongho Museum of Art.
Republic of Korea Silk Museum
Republic of Korea Silk Museum,
Republic of Korea Silk Museum, the Site of Proud Korean Silk Culture

Republic of Korea Silk Museum was opened with a purpose of collecting and preserving the proud Korean silk culture and tradition for posterity.
Republic of Korea Silk Museum not only provides the site for hands-on learning but also exhibits our will to present sericulture as a candidate for an advanced industry of the future. The Museum consists of four exhibition halls, including Agricultural Culture Hall, Sericulture Future Hall, Sericulture Product Hall, History & Culture Hall, and a Silkhouse that serves as a site for hands-on learning.
Further Information
Since the time of Dangun, Korean sericulture played an important role as traditional Korean industry. During 1960s as well, it contributed greatly to the enhancement of income in the countryside as a strategic export industry.

As such, in various parts of Republic of Korea, there are quite a few historical artifacts related to sericulture. Accordingly, in an effort to collect and preserve these artifacts for posterity, Republic of Korea Sericultural Association decided to establish Republic of Korea Silk Culture Museum in Cheongwon-gun Gangnaebeol, the cradle of technological education for sericultural families, on October 27, 1995 in commemoration of its 75th anniversary. The museum building itself was completed in October 15, 2004.

Items displayed in this museum include folk artifacts that reveal the history of Republic of Korean sericulture from ancient to modern times, the process of breeding silkworms, development of tools used, and the entire process of spinning and weaving into silk cloth, together with actual artifacts and materials.
Special Features
The entire process of sericulture, from breeding of silkworms to weaving of silk threads into silk fabric, is displayed by stage. During the breeding period of silkworms, such works as picking mulberry leaves and feeding the silkworms are actually carried out in the museum as on-site hands-on experience.
Cheongju Historic Museum of Baekje
As the archeological treasure No. 319, Cheongju Sinbong-dong Baekje Gobungun (a group of old tombs of Baekje Dynasty in Sinbong-dong, Cheongju) is a very important historic site that provides information on the early history of Cheongju area through five different excavation investigation.
Cheongju Historic Museum of Baekje opened its doors on November 29, 2001 to display these significant pieces of ancient history to the public and students and to provide a place where the audience can experience the antiquity.

Opening hours

Opening Hours : 9:00 AM to 6:00 PM
Closed Days : January 1 and every Monday

Telephone : (043)263-0107
Address : No. 1 Circulation Route 933, Heungdeok-Gu, Cheongju City, Chungcheong Bukdo
Korean Craft Museum
The Korean Craft Museum in Cheongju opened in September 2001 as a first-class art museum, and as the only art museum in Korea on the subject of crafts, it has been exhibiting, educating, and developing and selling crafts. We have been operating an exhibition where you can see various genres of domestic and foreign crafts and the present, a citizen craft academy with a history of 20 years, and a museum shop where you can purchase crafts from local artists.
Opening hours and operating hours

Gallery and Craft Studio: 10:00 – 19:00
Museum Shop: 10:00 to 20:00
Performance hall: 10:00 – 22:00

Closed day

Every Monday, January 1st, Lunar New Year, and Chuseok (However, January 1st, Lunar New Year, and Chuseok are closed until 14:00)

Telephone : (043)219-1800
Address : Cultural Manufacturing Center, 314, Sangdang-ro, Cheongwon-gu, Cheongju-si, Chungcheongbuk-do