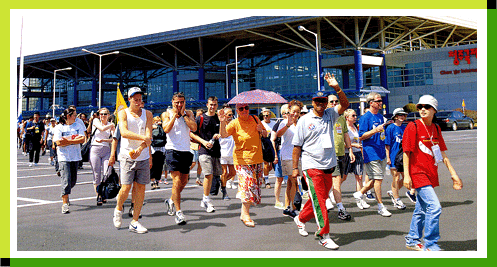 The hub of traffic with a convenient traffic network such as an international airport, an expressway an express railroad, etc.

Gyeongbu and Joongbu Expressways pass through the suburbs, and the Gyeongbu Express electric railroad,the city railway (Daejeon ~ Ogeunjang), and Dongseo Railway are expected to be constructed in the future.

The Cheongju International Airport (opened in April 1997) is located land half hours away from Capital region, adjoining the Ochang Science Complex and the Osong Life Science Complex.

It provides easy access to the metropolitan area. In addition, domestic lines such as the Jeju line have been expanded, and charter fights and regular international flights to Shanghai, Shenyang, Qingdao, Osaka, Taipei, Kaoxiong and Bangkok are offered. Moreover, with the construction of the 50,000-pyeong Cheongju Airport Logistics Complex and with plans for building the 380,000 pyeong Joongbu Complex Freight Terminal and Base for Inland Containers in the vicinity, the Cheongju International Airport is being intensively promoted as the airport for international logistics and industrial use, and a hub for international as well as domestic distribution.
Cheongju Express Bus Terminal
Cheongju Inter-City Bus Terminal
City bus fare: 1,200won~1,300won
Air Transportation Service
Cheongju International Airport (Tel. 043-210-6114)

The airport opened on 28 May, 1997 and functions as a central Korea area airport, a substitute airport in emergencies and the international cargo airport.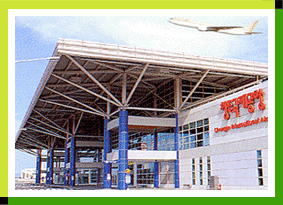 The passenger building with an area of 22,006㎡ can host 2.5 million passengers annually and available for international and domestic line transfers.
Representative Tel: +82-43-210-6114
Location: Ochangdae-Ro 980, Naesu-Eup, Cheongwon-Gu, Cheongju City, Chungcheong Bukdo
Major Facilities

| Facility names | Size | Remarks |
| --- | --- | --- |
| Runway | 2,740m x 0m 2,740m x 5m | 196,000 times/year |
| Apron | 51,973 ㎡ | 5 A-300s can park simultaneously |
| Passenger terminal | 22,406 ㎡ | 2,380,000 passengers capacity/year |
| Parking lot | 26,611 ㎡ | 660 cars can park simultaneously |
Railroad Information
Cheongju Station
Customer Center: +82-43-236-8315
Address:Cheongjuyeok-Ro 363, Heungdeok-Gu, Cheongju City, Chungcheong Bukdo
KTX Osong Station
Customer Center: +82-43-238-7788
Address:Osong Garak-Ro 123, Osong-Eup, Heungdeok-Gu, Chungcheong Bukdo
Ogeunjang Station
Customer Center: +82-43-212-7788
Address:Ochangdae-Ro 980, Naesu-Eup, Cheongwon-Gu, Cheongju City, Chungcheong Bukdo
Cheongju international airport station
Customer Center: +82-1544-7788
Address: : Ochangdae-Ro 980, Naesu-Eup, Cheongwon-Gu, Cheongju City, Chungcheong Bukdo