Chojeong Carbonated Water
This is made from the Chojeong Spa. It is regarded as the mysterious Oriental water, one of the world's top 3 mineral water brands. It contains abundant traces of each mineral needed by the body and dissolved oxygen. Many people enjoy this healthy water, which is actively exported to other countries.
Cheongju Jujube liquor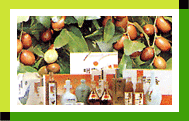 The most representative folk liquor of Cheongju, made of rice and fermented jujube, its fragrance and savory taste are the best.
Natural grape juice from Yongbawitgol, Cheongju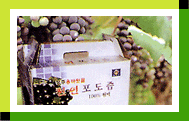 Made of 100% grapes with a high sugar content, produced under the right temperature and sunlight, it helps the body keep useful ingredients and enables people to enjoy the indigenous taste of grapes in resin through precise cleaning and vacuum-warming-up in a double boiler.
Cherry tomato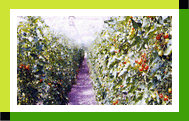 More over 130 farms around the Shinchon · Jeongbong-dong area along the Mihocheon river are producing under the farming methods of environmental protection. The growing land of 70ha, where producing high sugar and vitamin contents tomatoes, has forming over 60% of entire housing facilities.
Cheongwon-Life Rice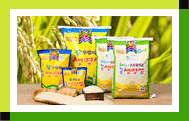 Received Grand Prize for Rice Quality in Republic of Korea for 3 years consecutively (2001~2003).
Received high quality brand rice LOVE 美 Award three times (2003, 2005, 2006, 2008, 2009, 2011).
Obtained Republic of Korea LOHAS Certification from Korean Standards Association (2007).
Cheongwon-Life Rice, which was produced on alluvial soil around Mihocheon(Stream) where top quality Sorori rice seed was excavated, takes pride in its quality as it received the Grand Prize for quality 6 years consecutively
Cheongwon-Life Zuchini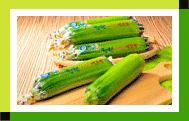 Received Grand Prize at Best Agricultural Product Evaluation Contest in Republic of Korea.
Cheongwon-Life Zuchini is popular among consumers as a well-being agricultural product as it has clear color thanks to abundant sunshine and clear water and high Vitamin A content. In comparison to sweet pumpkin or old pumpkin, zucchini is good for people with weak stomach or recovering patients as it has less dietary fiber.
Cheongwon-Life Pear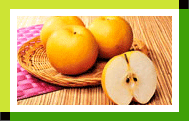 Refreshing pear with high sugar content!
Cheongwon-Life Pear has proven efficacy for coughing, obesity, thirst, and digestion as a pollution free fruit with high sugar content and refreshing taste. Pear is especially good for stomach ulcer, constipation, and diuretic effect. It is also very effective as a pick-me-up since it has high Vitamin content and is effective for skin care and prevention of cold as well.
Cheongwon-Life Strawberry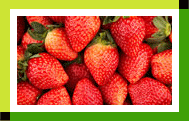 Environment-friendly strawberry with high sugar content!
Cheongwon-Life Strawberry has clear color, good storage quality, high sugar content, and unsurpassed fragrance. It gives smooth skin as a skin purifier since it is rich in Vitamin C that cleans our body, calcium and iron that helps blood circulation, and sodium that helps nerves and glands.
Cheongwon-Life Brined Cabbage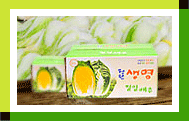 Cheongwon-Life Brined Cabbage is grown in Miwon- , Nangseong- , and Gangnae-myeon(town) highland and is known for its taste as the leaves are thin and have high water content. Cabbage is highly effective for cold, digestion, and constipation as well.
Cheongwon-Life Grape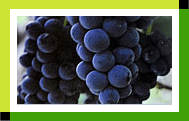 Cheongwon-Life Grape is grown in rain-shielding Green house Daecheong Dam and has thick berry and high sugar content. Grape prevents aging, cancer, heart disease and is effective as a pick-me-up since it helps bodily metabolism.
Cheongwon-Life Water Melon
Abundant water and sugar content!
Cheongwon-Life Water Melon is popular as it has clear color and high sugar content. Especially, it has excellent storage quality thanks to pre-cooling treatment. Water melon removes body heat, enhances circulation of blood, is effective for diabetes and uresis, and eliminates edema.
Cheongwon-Life Oyster Mushroom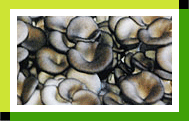 Let's eat oyster mushroom for our 'health'!
A representative pollution-free food, oyster mushroom has excellent taste as well as flavor. Its quality is unsurpassed since it is produced in an advanced facility utilizing new technologies. It is effective for obesity, constipation, high blood pressure, diabetes, and other adult diseases including cancer.
Cheongwon-Life Apple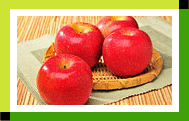 Red apple that is grown in hillland!
Cheongwon-Life Apple has excellent taste and flavor since it is produced in hillland where there is a huge daily temperature range. It has a good storage quality since its flesh is dense. Cheongwon apple is known for its quality thanks to its clear color and high sugar content. Apple is effective for colon cancer, constipation, blood sugar control, and reduction of cholesterol level. It also eases our mind, facilitates deep sleep, and helps in skin care.
Cheongwon-Life Pepper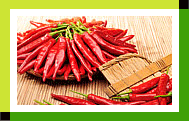 Cleanly washed dry pepper!
Thanks to the huge daily temperature range of this area, Cheongwon pepper maintains an ideal balance between hot taste and sweet taste. It has a clear color since it is dried in special drying facilities known as hyangto-bang. Cheongwon pepper produces high quality pepper powder since its skin is thick, yielding more in quantity.
Cheongwon-Life Native Honey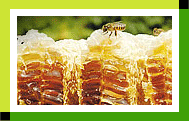 Native honey collected from high mountains and secluded valleys!
Cheongwon-Life Native Honey is collected from acacia and other wild plants of pollution free areas. This high quality honey is good as a pick-me-up, especially after a heavy drinking.
Cheongwon-Life Fragrant Mushroom
Simple taste! Mellow fragrance!
Fragrant mushroom has firm flesh and unique fragrance as it is produced from unpolluted oak tree. It is one of the better known health food as it is effective in preventing cancer.
Cheongwon-Life Tomato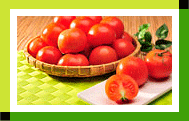 Representative well-being food Tomato!
Tomato is known for its effectiveness in preventing diabetes, stomach cancer, and prostate cancer. It is also good for women who are faced with menopausal disorder. It is also effective for anti-aging, osteoporosis, and dementia.
Cheongwon-Life Sweet Potato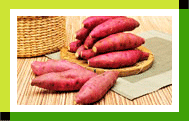 Sweet Potato for prevention of adult diseases!
Sweet potato is alkaline food that has abundant Vitamins, minerals, high-quality dietary fiber. It is popular as a natural food that can prevent adult diseases thanks to its anti-cancer and anti-oxidation capacity.
Cheongwon-Life Black Bean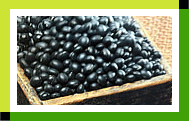 Black Bean that enhances our level of immunity
Black bean is effective in enhancing the level of immunity, preventing various diseases including cancer, delaying aging. It also lowers the level of cholesterol, protects eye- sight, and improves blood circulation.
Cheongwon-Life Broccoli
>Broccoli that enhances our level of immunity!
Selenium, one of the main ingredients of broccoli, neutralizes active oxygen that promotes aging and has excellent anti-cancer capacity.
Cheongwon-Life Bean Paste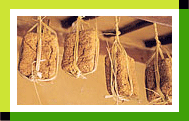 Bean paste that is made of Korean beans!
Cheongwon-Life Bean Paste, made of beans that are produced in clean Miwon area, has less smell but more traditional taste. It is one of the representative traditional Korean food that everyone likes.
Cheongwon-Life Bee Honey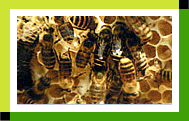 First-rate health food, Be Honey!
Bee honey is good for recovery from fatigue and heavy drinking. It eases stomach and is effective for constipation and skin care.
Cheongwon-Life Egg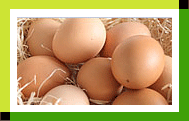 No antibiotics certified.
Tight egg yoke is an unmistakable proof of its freshness, ensuring spicy taste and fragrance with no fishy smell.
Cheongwon-Life Ginseng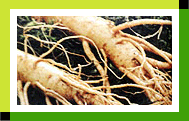 Ginseng with excellent anti-cancer immunity!
It is known to be effective for recovery of liver function, anti-cancer immunity, diabetes, high and low blood pressure, and anti-stress. It is also effective as a pick-me-up and in the promotion of nerve cells.
Garlic, a representative tonic food that cures fatigues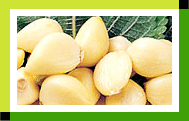 Cheongwon-Life Garlic has a unique taste and fragrance as it is grown on lime-rich land in Munui-myeon near Cheongnam-dae. The garlic has excellent storage quality since it is hard. This is one of the representative well-being foods of Republic of Korea that contains abundant allicin.
Cheongwon-Life Peach
Vitamin C-rich Cheongwon peach!
Peach is regarded as one of the best fruits of the summer. Everybody likes this Vitamin-rich fruit and its fragrance. It is also effective for skin care.
Cheongwon-Life Dandelion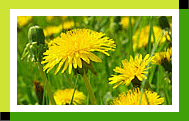 Korean dandelion that are grown directly
by Cheongwon farm houses and its syrup!
According to Korean traditional Medical book written by Jun Huh, dandelion blooms chrysanthemum-like yellow flowers in March and April. When stems and leaves of dandelion are boiled, white sap commonly known as Pogongyeong is obtained. This substance releases heat poison, relieves wheal, loosen lumps, relieves food poison, and cures symptoms of indigestion.
Cheongwon-Life Korean Raspberry
Minimum pesticides! Environment friendly! Korean Raspberry!
Korean raspberry is grown on highlands of 300 m altitude with huge daily temperature range, which makes the raspberry hard and highly fragrant.