Cheongnamdae Presidential Vila
Cheongnamdae Presidential Vila
Cheongnamdae Presidential Vila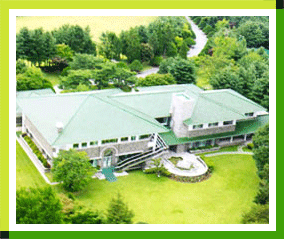 Cheongnamdae Presidential Villa,
Cheongnamdae Presidential Villa
Boasting Excellent Scenery and Fresh Air.

The word Cheongnamdae refers to the 'Blue House located in the South'. During 1980s, it was the stage for successive Presidents --Jeon Duhwan, Roh Taewoo, Kim Youngsam, Kim Daejung, and Roh Muhyeon- to have a vacation or design political plans in a natural environment. Until 2003 when it became open again to the general public, it remained as a Presidential retreat with innumerable untold stories.
Letter of Invitation
Please come to visit Cheongnamdae where you can sense breath of history. The lakeside Presidential Villa Cheongnamdae invites you. In seven years since it was returned to the people, more than 4.6 million Koreans paid a visit to Cheongnamdae that is established by now as the most famous tourist attraction. The Cheongwadae (Blue House) in the south (Nam)! It is the historical site where five Presidents of Korea spent their time for vacation as well as political design. Cheongnamdae has also unsurpassed natural scenery that is not found anywhere else as it was designated as a water resource protection area. At Cheongnamdae, you can see the main porch where you can sense the breath of successive Presidents, Presidential Plaza, Ogak-jeong, golf course, fish farm, and choga-jeong. You can also see the Presidential History & Culture Hall, Roof-top Sky Garden, and the Lakeside Trail where you can walk with your loved ones along the Daecheong lakeshore.

Come to visit Cheongnamdae, and enjoy the Cheongnamdae Festival that is held each year. During April and October when the Cheongnamdae Festival is held, you can see other events such as Drawing Contest and Presidential Selection Contest. You can also appreciate a chrysanthemum exhibition where 10 millions chrysanthemum flowers are on display. Cheongnamdae is open for you in a superb natural beauty, come and experience a Presidential day of your own and make a romantic memory of receiving Presidential spirit. We promise you will be treated with utmost care for your convenience. Thank you.
Further Information on Cheongnamdae
You can find in Cheongnamdae several buildings used by Presidents, a well-trimmed garden, and several trails. You will be greeted by scores of 50-year old pine trees in front of the two-story main building with blue roof-tiles just like those of the Blue House.

Right next to the main building, there is a playground where grandchildren of a President might have played, an airplane model, a swimming pool, and a tennis court. On a hill in the back, there is a heliport covered with Korean lawn. In the garden of the main building, there stand red pines, nut pines, plum trees, cedar trees, and white pines. The scenery of Daecheongho seen from here is an unsurpassed natural beauty.

Follow the pine path from the garden to a pavilion in front of the lake, a pear grove path in-between pear orchards, a 1 km-long trail along the lakeshore, and you will find peace in your mind as if in meditation. But if you want to see the Cheongnamdae, you first have to make a reservation. Contact the Cheongnamdae website at http://chnam.cb21.net for reservation.

The number of tourists allowed to enter Cheongnamdae per day is 1,000. Cheongnamdae is open from 10:00 a.m. to 6:00 p.m., but it is closed on Mondays. Free walking-around of individuals is not allowed. Tourists will be escorted by a guide in a shuttle bus and visit such facilities as fish farm, the main building, garden, swimming pool, 6-hole golf course, the pavilion in front of the lake. The tour will take about 2 hours, and the main building will be open partially. You cannot cook your own food in Cheongnamdae, and you cannot bring your own food either.
History of Cheongnamdae
In 1980, when President Jeon Duhwan participated in the completion ceremony of Daecheong Dam, he made the decision to establish a Presidential Villa here on the recommendation of his advisers. The construction, which began in June 1980, took six months and was completed in December the same year. 'Cheongnamdae', located on 1,844,843㎡ of land near Daecheong Dam, Chungcheong Bukdo, refers to the 'Blue House (Cheongwadae) in the South (Nam)'.

Successive Presidents often spent their summer vacations and holidays here. Some Presidents visited Cheongnamdae four or five times a year, others came more often visiting seven or eight times a year. Altogether, the Presidents visited this place 88 times for a total of 471 days. There were four Presidential Villas from the time of President Syngman Rhee including one at Kimhae, but President Kim Youngsam closed all others except the Cheongnamdae.

Cheongnamdae was equipped with complete facilities to carry out Presidential duty even during vacation or holidays. It also constructed and operated a top-quality water purification system for the protection of Daecheongho water resources. Besides, Cheongnamdae was managed directly by the Blue House as Classification A Security Facility, complete with 4-fold security wires and 338 Security Garrison Force. On April 18, 2003, management of Cheongnamdae was transferred to Chungcheong Bukdo by President Roh Muhyeon, and since then Cheongnamdae was open to the general public.

In rapidly changing domestic and foreign situations, Presidents were often required to make important decisions. At such times, the Presidents stayed in Cheongnamdae to design future political plans, and these decisions often changed history. This is the so-called "Cheongnamedae Design" On other occasions, Cheongnamdae was also used to invite foreign dignitaries.